Inclusive Economy Lab A Conversation with Amanda Cage about Workforce Equity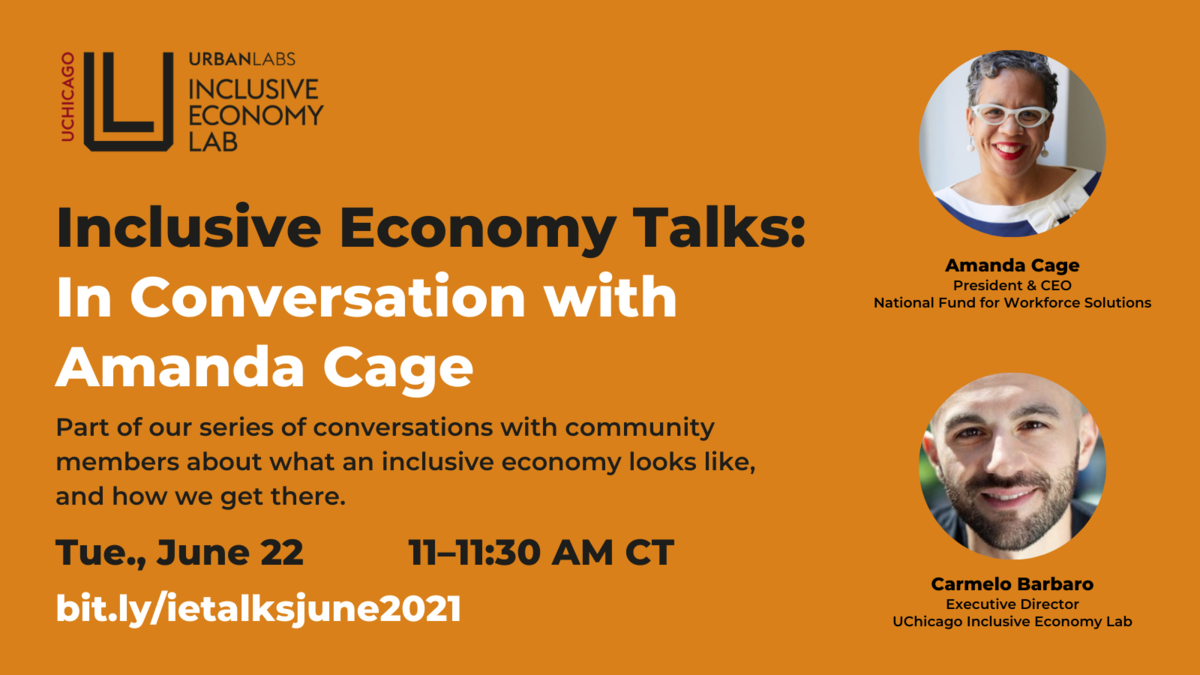 As part of the Inclusive Economy Talks series, the Inclusive Economy Lab's Carmelo Barbaro will speak with Amanda Cage, President & CEO of the National Fund for Workforce Solutions, about the role of workforce equity in creating an inclusive economy. The National Fund for Workforce Solutions collaborates with workers, employers, and communities to advance a skilled workforce, promote good jobs, and invest in equitable outcomes.
Date: Tuesday, June 22, 2021
Time: 11:00 – 11:30 AM CT
Location: Zoom Webinar
Free and open to the public. Register online.
About the Speakers
AMANDA CAGE is the president and CEO of the National Fund for Workforce Solutions. Amanda joined the National Fund in March 2020, bringing more than 25 years of federal workforce system, grantmaking, and organized labor experience to the organization.

Throughout her career, Amanda has focused on ensuring economic inclusion and stability for workers and their families. Most recently, she served as the chief program officer at the Chicago Cook Workforce Partnership. There she managed a $70 million portfolio of public and private funding and a network of over 50 agencies for the country's second-largest workforce system. Before that, Amanda served as director of human capital strategy for the Chicago Workforce Investment Council, where she led a citywide effort to increase Chicago's competitiveness in a global economy. For five years, she led the workforce development portfolio at the McCormick Foundation, and she was the 2004 J. Ira & Nicki Harris Foundation Fellow at the Chicago Community Trust.

Amanda started her career as a labor organizer working for Jobs with Justice and the Service Employees International Union and was a Trade Union Program Fellow at Harvard Law School. She is an Aspen Institute Economic Opportunities Program 2017-2018 Job Quality Fellow and a 2019 Leadership Greater Chicago Fellow. Amanda sits on the board of WorkRise, a research-to-action network on jobs, workers, and mobility and sits on the Federal Reserve Bank of Chicago's Advisory Council on Agriculture, Small Business and Labor. Amanda earned a bachelor's degree from Oberlin College and a master's degree in public policy from the Harris School at the University of Chicago.

CARMELO BARBARO is Executive Director of the UChicago Inclusive Economy Lab. He previously worked as a Project Leader in the Chicago office of the Boston Consulting Group (BCG), a leading strategy consulting firm. Before joining BCG, he spent several years working in urban planning and community development, focusing on low-income communities in the cities of Chicago and Milwaukee.

He holds a BA in government from Harvard University, an MSc in regional and urban planning studies from the London School of Economics and Political Science, and an MBA from the University of Chicago Booth School of Business.
---