The Rapid Employment and Development Initiative (READI Chicago) seeks to deliver intensive and innovative programming to the men in Chicago at highest risk of becoming involved in gun violence. Launched in fall 2017, READI Chicago provides these men with 18 months of paid transitional employment, along with regular participation in cognitive behavioral therapy (CBT), skill-building, and support services, plus an additional six months of follow-up case management and coaching support.
Co-designed by Heartland Alliance, researchers at the Crime and Poverty Labs, University of Michigan, and Cornell, community providers, and city partners, READI Chicago is grounded in research suggesting that gun violence often results from "in the moment" decisions during high-stakes situations, or planned retributions for earlier injuries and slights, made deadly by the widespread availability of guns. This insight suggests that helping people recognize these situations and adjust their thinking--slowing down, considering alternatives--as CBT is designed to do could help keep them safe. And evidence from Chicago and elsewhere finds that CBT is effective at reducing violence among various populations, both alone and in combination with stipends or employment.
The Crime and Poverty Labs, in partnership with researchers at the University of Michigan and Cornell, are rigorously evaluating the program using a randomized controlled trial (RCT) to measure its impact on participants' violence involvement and learn how participants and providers interact with the READI Chicago model. Though the study is ongoing, the research team has already learned a lot about READI participants' needs, experiences, and engagement with the READI program.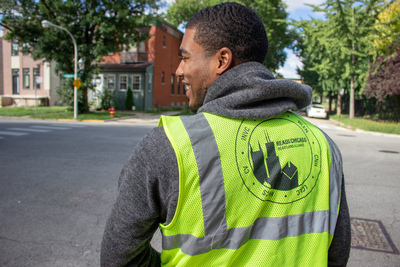 Men referred to READI Chicago are at extremely high risk of future involvement in gun violence and have been exposed to significant violence prior to joining the program. Over 80% of men referred to READI had been victims of violent crime, and just under 50% were violently victimized by the age of 15. Almost all referrals into READI have been arrested, over half for serious violent crimes, and over a third of READI referrals had been shot.
These men continued to experience high rates of gun violence after they were referred. We can understand what READI Chicago participants would have experienced in the absence of READI by looking at the control group, men just like READI participants who had access to all other services except for READI. By 20 months after they had been referred, men in the control group were shot or killed at 55 times the rate of the average Chicagoan during that period. This level of risk for violence involvement is truly staggering. Outside of the criminal justice system, few, if any, organizations can claim to serve a population at this extreme level of risk of serious violence victimization.
Despite this high risk, the rate of participation in READI Chicago is over twice what was originally anticipated. Fifty-five percent of all individuals eligible to start work do so, and over 50% of those who start the initiative are still engaged after a year and continue to work during at least 79% of the weeks available to them. These rates of engagement are comparable to those of in-school programming for young people who are much more attached to services.
Early results indicate that READI Chicago may reduce the number of participants who are shot or killed. It is too early to know if these results will persist through the end of the study. But given the enormous cost of gun violence, even small reductions in shootings would have sizeable benefits for the individuals, families, and communities that READI Chicago serves.
---
To learn more about the research, please contact:
John Williams
Director of Communications and Engagement
University of Chicago Crime Lab & Education Lab
jwilliams100@uchicago.edu
To learn more about READI Chicago or how to contribute, please contact:
Barbara Hoffman
Chief External Affairs Officer
Heartland Alliance
bhoffman@heartlandalliance.org
---
READI in the media
Block Club Chicago: "Radical New Program Finds Men Most Likely to Be Shot -- And Hires Them"'
Chicago Tribune: "In hopes of stopping bloodshed, a multimillion-dollar effort is providing jobs, therapy to city's most violent"
New York Times: "Want to Quit the Gang Life? Try this Job On
READI was featured in this commercial from the 2019 Masters Golf Tournament.
---