Crime Lab Choose to Change
Gun violence, which is disproportionately concentrated among young people, poses a critical threat to Chicago and other cities across the country. In Chicago, sixty percent of people arrested for violent crimes in 2015 were under the age of 25, a rate that is nearly double the national average.
Figuring out ways to prevent crime and violence while decreasing incarceration is critical, especially given the staggering social and economic costs of incarceration—costs that are borne disproportionately by the very same communities hardest hit by violence. To do this, we need to identify community-based interventions that change behavior and successfully engage those youth most likely to be the perpetrators and victims of gun violence.
In the past few years, substantial progress has been made in identifying youth violence prevention programs that change decision making to improve behavior among young people who are engaged with school or incarcerated. Unfortunately, very few violence prevention programs engage youth who are at the most elevated risk for being impacted by violence outside of institutional settings, such as those who have begun disengaging from school and are beginning to become involved with the justice system, but are not incarcerated.
What if we could effectively identify and engage adolescents who are at an elevated risk for violence involvement in Chicago's most economically marginalized and racially segregated neighborhoods and provide them with the comprehensive supports they need to succeed?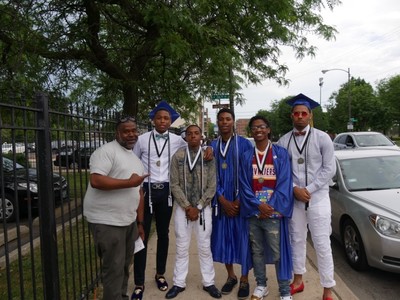 Choose to Change (C2C): Your Mind, Your Game is a community-based intervention that aims to reduce crime and violence by engaging youth in a six-month program that combines trauma-informed cognitive behavioral therapy (CBT) with intensive, individualized holistic mentorship and advocacy. The C2C model is jointly delivered by Youth Advocate Programs, Inc. and Children's Home & Aid. Referrals are made by community partners that work directly with youth involved in the juvenile justice system and/or who have chronically disengaged from school. C2C is able to engage these young people through an advocate or ("super mentor") who connects with youth and builds the trust needed to engage the young person in programming. C2C aims to build healthy decision-making habits, provides motivation and direction on long-term goals, and helps young people navigate the high-stakes situations they too often encounter in their daily lives.
Since 2015, approximately 500 youth have been served by C2C in the greater Englewood and West Englewood neighborhoods. The Crime Lab has been rigorously studying the effects of this program on youth outcomes using a randomized controlled trial. Preliminary results suggest that participation in the program leads to dramatic decreases in arrests. Based on these promising early findings, and with the continued support of the Chicago Sports Alliance, the City of Chicago, the McCormick Foundation, and the Pritzker Pucker Family Foundation, C2C is expanding in 2019 to engage more youth throughout the city of Chicago, including in underserved communities on the west side, while also maintaining programming on the south side.
Previous programming was made possible by Get IN Chicago and the John D. and Catherine T. MacArthur Foundation. Additionally, the Centers for Disease Control and Prevention supports ongoing and future research activities.
---
To support our partners' delivery of this important work please click here to support Children's Home & Aid and click here to support Youth Advocate Programs.
---
Choose to Change in the Media
New York Times: "How to End the Cycle of Violence in Chicago"
Fox News: "Amid gun violence crisis, all 5 Chicago pro sports teams funding therapy, mentoring program for at-risk youth"
UChicago News: "Crime Lab announces design competition for new ways to reduce Chicago's youth violence"
UChicago News: "Crime Lab to study three programs in effort to reduce youth violence in Chicago"
Youth Advocate Programs: "Children's Home + Aid and YAP Win Chicago design competition"
---